Invitation / Incitation
The Simplicity Collective is founded upon the idea that a 'simpler life' of reduced resource and energy consumption is a viable and desirable alternative to consumer culture.
Our position is that simple living will improve not only our own lives, but the lives of others, as well as help save our planet from the environmental catastrophe towards which we are so enthusiastically marching.
We must not just fall in line, then, and continue the march 'business as usual.' We must explore alternative ways to live. We must experiment creatively, like the artist. We must be the poets of our own lives and of a new generation.
Resources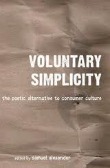 For a non-profit copy of "Voluntary Simplicity: The Poetic Alternative to Consumer Culture" by Samuel Alexander - Click Here
Listen to "Affluenza" by Senses of Walden - Click Here