Apr 16, 2015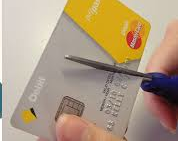 This morning I cut up my Commonwealth Bank card, and it felt good. I've been meaning to do it for ages. When I first moved to Australia in 2006 I didn't give much thought to which bank I should bank with. But now I know that Commonwealth Bank invests heavily in the fossil fuel industry at a time when we all know carbon emissions from burning fossil fuels is destabilising our climate. Commonwealth Bank knows this too, I presume, but apparently it prefers to pursue carbon-intensive profits than invest in environmentally responsible ways. I didn't want my money being used to invest in fossil fuels, so over recent weeks I set up a new bank with ME Bank, which has a much better ethical record. (For a bank comparison, see here).
This process of switching banks has been surprisingly painless, assisted by Market Forces, a leading divestment organisation. The first step is to put your bank 'on notice' – let them know why you are leaving. Then choose which bank you'd like to move to. My new bank allowed me to apply for an account online, and it only took about ten minutes. Too easy. Over the next week or two I'll be winding up my account with the Commonwealth Bank and will then wash my hands of their dirty practices once and for all. How we invest our money (including which bank we choose) is how we vote on what exists in the world. Today I voted for a world beyond fossil fuels. I am now an active member of the rapidly growing Fossil Fuel Divestment Movement. My only regret is not divesting sooner.
Admittedly, I don't have a huge amount of money, so I don't expect my act of divestment to change the world on its own. But if enough of us do this, then who knows? Momentum is growing, at pace. The fossil fuel industry needs investors. What if we all withdraw our financial support?
But it is important to understand that the fossil fuel divestment movement is more than just simply moving money. Our individual acts of divestment contribute to a broader social conversation about the importance of thinking about where our money is kept and what kind of world it is creating. A 2014 University of Oxford report argues that divestment movements have been highly successful at stigmatising industries and opening the door for prudent government legislation to be introduced.
But it is not enough merely to divest, we also need to invest in renewable energy. A few years ago I put solar panels on my roof, and now my household produces nearly twice as much renewable electricity as it uses. Why can't our banks and governments help make this transition too? If they don't, let's withdraw our support.
Last year I co-authored a paper on the Divestment Movement. Given how quickly the movement is progressing, the paper is already out of date in some respects (which is actually a very promising realisation), but for those wanting an introduction to the Divestment Movement, that paper is still a good place to start. The issues raised in the paper remain accurate. What has changed is that the movement has grown from strength to strength, threatening to develop an unstoppable momentum. If you have money invested in fossil fuels, you may want to consider divesting before the 'carbon bubble' bursts and you are left with 'stranded assets'. Here's another very good introductory article on divestment by Govind Maksay of Market Forces.
My dissatisfaction with the Commonwealth Bank was crystallised when I discovered the extent to which it was supporting the fossil fuel industry. With the assistance of Market Forces I sent the following letter to the Sustainability Manager of the Commonwealth Bank:
To the Sustainability Manager of Commonwealth Bank, via the Swanston Street Commonwealth Bank branch Manager,
I am writing to ensure you are aware of why I have decided to close my account with Commonwealth Bank. I have been with Commonwealth Bank for nine years and recently became aware of the extent to which Commonwealth Bank is financing major fossil fuel projects in Australia.
Commonwealth Bank is clearly a major supporter of the coal and gas sector, for example having loaned hundreds of millions of dollars to coal and gas export projects in the Great Barrier Reef World Heritage Area over the past five years.
Of Particular concern is that Commonwealth Bank has been outed as helping to arrange finance for Adani's massive proposed coal export terminal at Abbot Point in the Great Barrier Reef World Heritage Area. It's a project that would open up one of the world's largest coal basins to mining at a time when we need to rapidly move away from fossil fuels and replace them with clean, renewable energy.
Coal and gas are driving an array of unacceptable environmental risks, from the degradation of groundwater resources to the industrialisation of the Great Barrier Reef, loss of critical wildlife habitat and of course, climate change. I don't want my money helping an institution that is funding these destructive projects, especially when there is a wealth of clean, renewable energy alternatives available. And yes, I am aware that you also finance renewable energy projects – this is of course important and worthy but I don't support the idea that you would at the same time fund fossil fuels, the source of so many adverse environmental impacts.
I have tried to communicate my concerns about these environmentally and economically dangerous investments in the past but it appears that Commonwealth Bank has chosen to carry on supporting fossil fuels.
As a consequence, I have decided to move my money to a bank that will not finance coal and gas projects. It is a move made to ensure my own finances do not support an industry that is polluting the environment, and I hope my action will also make Commonwealth Bank reconsider future investments in the fossil fuel sector. I hope you do not have to receive too many more letters like mine before you realise that investing in fossil fuels is no longer viable or responsible.
If there is anything you would like to say directly in relation to this letter, you are welcome to write back to me.
I did not receive a satisfactory response, so I divested.
This Saturday, 18 April, there is an event in Melbourne protesting against Commonwealth Bank for its support of the fossil fuel industry. For details, see here. If you're with Commonwealth, please head down and support this event and put your bank 'on notice'. If you're with another fossil-fuel supporting bank, why not make the switch today?
The Divestment Movement can't be stopped. The fossil fuel industry is right to be worried. It's time to invest in a future beyond fossil fuels.
2 Responses to "Divesting from Commonwealth Bank – or, why I just cut up my bank card"