Jul 24, 2013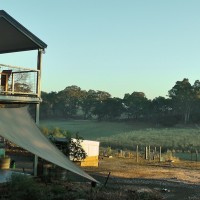 It is with a mixture of pleasure and pain that I write this post. A couple of weeks ago a reader of this website sent me through a link of an amazing rural property 1 hour 40 mins out of Melbourne: 10 acres, beautifully designed eco-house, off-grid solar, 135,000 litres of water capacity, 25 fruit trees, grape vines, a huge shed and veggie patch, with a separate self-contained studio, etc. etc. It is perhaps the most beautiful, well-designed property I have ever seen. My partner and I dreamed of buying it, and we even went out to see it. We dreamed of setting it up as a 'simple living' demonstration site / learning centre / eco-retreat / organic farm… the possibilities are endless.
For various reasons, however, we've decided it's not for us, not now. But perhaps it is for you? Or perhaps you know someone who might be interested? If you have been looking for a simple, quiet, very reasonably priced eco-house, look no further! Details and more photos are available here (WARNING: you will want to buy this house).
Not only is the house truly extraordinary, it is owned to by two extraordinary people, who are leaving to carry on the adventure of life elsewhere as musical nomads on bikes. One of the owners is Kris, the Unconventional Cellist, whose music I have been devouring in recent weeks. If you don't buy her house, you should definitely check out her entrancing and uplifting music.
I hope this house finds the right people.