Apr 23, 2012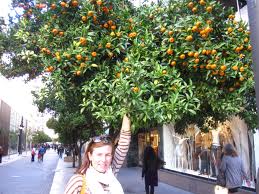 Relocalising food production – especially in urban centres – is absolutely critical to decarbonising our economies and making our communities more resilient. My vision of a sustainable urban landscape is one where the streets are lined with fruit and nut trees, supplying the community with a greater portion of its own food.
The City of Moreland (my local Council in Melbourne) is in the process of reviewing its policies on the urban landscape, including its regulations governing what can be planted in nature strips. Currently there are strict guidelines which prohibit residents from planting trees in their nature strips – despite the fact that there are hundreds of fruit trees already lining our streets. There are now ten flourishing fruits trees on my cul de sac alone!
Some Councils have recently opened up their guidelines to allow productive trees in nature strips. For example, here are three passages from the City of Yarra guidelines:
'The City of Yarra recognises the importance of urban agriculture in supporting community sustainability, especially in times of changing climate and the myriad of associated issues such as food security due to diminishing oil supplies.'
'Planting productive trees is considered by Council to be an effective means of inspiring and enabling community food production in the City of Yarra by generating environmental, social and economic wellbeing from the ground up – created for and by local people.'
'There are terrific social and physical benefits in being able to access safe public spaces to grow food and share fresh produce.'
The City of Moreland is currently seeking submissions from the community on their guidelines, and I have just drafted and submitted a policy proposal which can be read here. 
The aim is to convince Moreland to adopt something similar to the Yarra guidelines. I'll keep you posted, and please leave a comment below if you'd like a word document of my policy proposal to amend and submit to your own council. I encourage you to do so!
13 Responses to "Urban Food Forests: A Policy Proposal"