Sep 28, 2013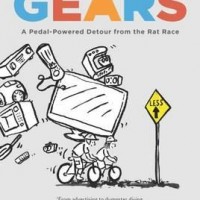 Recently I was fortunate enough to attend the book launch of Changing Gears: A Pedal Powered Detour from the Rat Race, written by Greg Foyster. Over the last week or so I've devoured this highly enjoyable read.
This book achieves the challenging task of being eminently readable and ethically deep, and every few pages Greg's sharp sense of humour produces genuine 'laugh out loud' moments. In fact, I haven't laughed so much reading a book for a long time. I highly recommend this book to all those interested in exploring the question, 'How much is enough?'
Here's the book's blurb:
Greg Foyster quits his job in advertising and decides to live more simply. Looking for inspiration, he and his partner Sophie cycle from Melbourne to Far North Queensland (via Tasmania, naturally) scouting out ideas.
Preposterously underprepared, they are propelled by the inspiring and eccentric characters they meet along the way – from a forest activist living up a tree to an 18th-century woodsman and a monk walking barefoot through Queensland.
Featuring eye-opening encounters with DIY downshifters and leading figures in sustainability, Changing Gears is a jaunty adventure that explores an important question for the future: can we be happier with less? 
I think this book could be an important moment in the movement known as 'voluntary simplicity'. Not because it contributes any new insights to this way of life, but because it is arguably the most accessible and non-confrontation introduction to simple living. Because Greg positions himself as something of a 'simple living sceptic', people who are not yet of the simple living mindset will immediately empathise with Greg, and hopefully follow him through the pages as he explores the various aspects of simple living with admirable honesty. Along his journey he interviews David Holmgren, Ted Trainer, Rhonda Hetzel, among many others, and he even found time to drop by my place for an interview (available here for those who want a taste of the book).
For those people already living the simple life, this book will affirm rather than enlighten. For those people not quite there yet, or who are in the early phases of their transition, then this book has the potential to be a catalyst for a life-changing transition.
Therein lies this book's real genius, and indeed, its potential social significance: it may ignite a process of transition toward simplicity for people who were searching for something but didn't know where to start. Whereas my book, Entropia, aims to invite light green people to consider darker shades of green, Greg's book arguably takes on the even greater challenge of engaging the mainstream. For taking on that challenge, Greg is to be commended.
So if you know of someone frustrated by consumer culture and searching for some alternative, buy them this book. It just might change their life.
The book is available here.
2 Responses to "Changing Gears: A Pedal-Powered Detour from the Rat Race"