Feb 3, 2012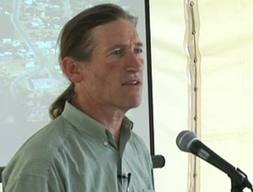 Exciting news for all Melbournians: David Holmgren, co-originator of the 'permaculture' concept, is giving a free lunchtime talk at Melbourne's Wheeler Centre on 16 February 2012. His subject is 'Retrofitting the Suburbs for Sustainability," and it isn't to be missed. David's insight into the various social and ecological challenges of our times is unrivalled, and I'm very much looking forward to absorbing some of his immense wisdom at this talk. You don't need to register for the talk, you just turn up! Details on the venue are available at the Wheeler Centre's website here. Please pass on this invitation to all relevant networks.
Here's the blurb for David's talk:
In recent years, as we have become more aware of the negative effects of our high-impact lifestyles, a number of environmental responses have been introduced – such as increased insulation and energy-efficiency requirements for buildings, improvements to public transport, conservation of urban green space, and more water-sensitive urban design. At a personal level, a few individuals are also adapting by, taking in boarders, sharing backyards, or returning to the multi-generational family unit. 
We have barely scratched the surface, however, of the profound improvements that the application of permaculture principles and strategies could deliver for the sustainability and livability of today's suburbs.
David Holmgren, the co-founder of Permaculture, will explore how suburbs can, and are, responding to the converging economic, energy and climate crises. He will show how household and community resilience can be stimulated in the face of these pressures.
For those who want an introduction of the subject matter, here is a short but thought-provoking interview with David which has been posted on YouTube: http://www.youtube.com/watch?v=iTYe8WloF1U
2 Responses to "David Holmgren: Retrofitting the Suburbs for Sustainability"