Jun 11, 2013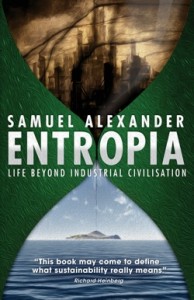 I am very pleased to announce the publication of my new book, Entropia: Life Beyond Industrial Civilisation. This book is a creative work of fiction – a 'utopia of sufficiency' – in which I bring to life a simple living community that became isolated on a small island after the collapse of industrial civilisation. Looking back from the future, I describe the economy, culture, and politics of the community – with a few surprises along the way!
The book is being launched on 18th July at 6pm at Melbourne University. Please RSVP here (where there are more details).

Paul Gilding, author of The Great Disruption, has described Entropia as 'a masterful work of the imagination…. a literary manifesto that will inspire, challenge, and give hope.'
Richard Heinberg, author of The End of Growth, has praised my book as follows: 'Overflowing with insight and beautifully written, Entropia unveils the radical implications of moving beyond fossil fuels. This book may come to define what sustainability really means.'
Ted Trainer, author of Transition to a Sustainable and Just World, has said that 'Entropia is both confronting and inspiring, offering us an insight into the possibility of a much saner and more satisfying world.'
Copies and more information are available from http://www.bookofentropia.com/
As always, I'm very grateful for your support. Hope to see you at the launch!
_____________________________
No Responses to "Entropia: Life Beyond Industrial Civilisation"