Mar 3, 2012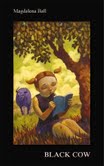 Magdalena Ball, one of the readers of this website, has just published a book of fiction called Black Cow, which explores themes related consumerism and sustainability. Below she provides an overview of her novel. Thanks to Maggie for her efforts, and congratulations for bringing this work to fruition.
Freya and James Archer live the high life in a luxury home in Sydney's poshest suburb, with money, matching Jags, two beautiful teenage kids … and they couldn't be more despondent. Black Cow is a novel that takes on the notion, popularised by Clive Hamilton and Richard Denniss, of 'affluenza': that all-too-prevalent modern condition that combines stress, overwork, super-consumption and debt, with a deep sense of dissatisfaction and hunger.  The story begins with a family in trouble as the global recession deepens. As CEO of a large corporation, James finds himself laying off staff, while Freya's real estate returns are dropping. In response, Freya and James work longer hours, spend more, and run faster in their effort to follow the myth of the Australian dream (which could easily be the American or European dream).  The Archer's world is full of noise. The mobile phones rarely stop ringing long enough for the family to talk, or listen, to one another.
Freya and James aren't the only ones in trouble either.  Their children are suffering from self-inflicted illnesses. As Freya and James slide towards forty, the realisation that something is very wrong in their lives is becoming overwhelming. Finally the family give into their desperation for something real in their lives and leave behind the gleaming Double Bay home and corporate life for self-sufficiency in an old Tasmanian farmhouse. But as the Zen saying goes "wherever you go, there you are", and the family need to do more than move house and leave their jobs to re-connect with themselves.
Black Cow is a character driven novel that charts the transformation of this family, which could be nearly any modern family, coupling fear of poverty with a wholehearted acceptance of "the happiness lie". This is a family that has come to accept, through their behaviour, the notion that happiness lies in the pursuit of wealth, physical beauty, and overt consumption.  Why shouldn't they?  Governments and marketers everywhere are pushing this line as if it were the latest designer drug.  The Archers fit the dream perfectly in every way: they're right on top of the corporate ladder, they dress well and look sharp, with kids in the most exclusive schools. Their whole lives revolve around earning and spending, and the worse the economy gets, the harder they work and the more they spend.  It's possible to think of The Archers as a microcosm of society. When faced with economic difficulties the family goes into stimulus spending mode.  But less and less is actually being created.  The Archers aren't happy, and no amount of spending is going to buy them the self-fulfillment they so desperately crave. Their lives are almost entirely devoid of creativity. They're cut off from self-reflection, from real communication, from smell, taste, touch — they're too busy running to feel anything other than fear, guilt, and desperation.
This is the underlying theme of Black Cow.  The book asks, within the context of its fictive truth, how we can, in the face of this increasing pressure to earn and spend, stop the madness, jump off the treadmill, and begin to live again — slowly, fully, creatively.  How do we create meaning in our lives, in spite of the ongoing onslaught of commercial messages that tell us to move faster, think less, and accept that we're going to die early?  The Archers find a way out of the madness, but it's no easy panacea. They have to first heal themselves, and go through an almost comical transformation to learn to live sustainably again, in the context of the shared wisdom of community. There are so many skills they've lost. Above all, they need to re-connect to their own pasts.  As the name suggests, Freya's name is Norwegian, and her rejected, semi-mythical past is part of what fuels her creative transformation.  James too has a past to unearth as he uncovers his own tamped down hurt.
In writing Black Cow, it was never my intention to preach about sustainability or the pains of over-consumption. The story isn't specifically meant to be didactic or even edifying. As a fiction writer, however, I've sought to explore these notions through the tools of fiction: the character arc, plot, conflict, structure, narrative. The good life is certainly an evocative notion for me, even if total self-sufficiency isn't necessarily practical in the world we currently live in. The notions I explore in the novel are ones that I'm certainly attracted to personally, along with the themes of creative and personal transformation, subjects that I suspect will always form the backbones of any fiction I write and much of my poetry.
Magdalena Ball is the author of Black Cow. Grab a free mini e-book brochure here:  http://www.bewritebooks.com/mb/BlackCow/BlackCow.html
For more about Magdalena visit: http://www.magdalenaball.com
3 Responses to "Sustainability in Fiction: Black Cow by Magdalena Ball"