Nov 9, 2011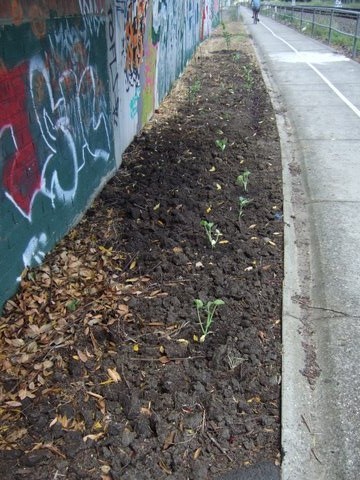 With a day to pass before my students submit their second assignment for marking, this morning I set out on my bike to survey the neighbourhood for a plot of unused land to cultivate, in the manner of a Guerrilla Gardener. I already had my eyes set on a couple spots, so soon enough I found myself hoeing the earth as a soft rain began to fall. It was very pleasant, indeed.
The plot is approximately 2 metres deep and about 10 metres long – which isn't an insignificant area. It has lain bare for the three years I have been cycling past it, so I claimed stewardship of it.
Below is the plot I "occupied."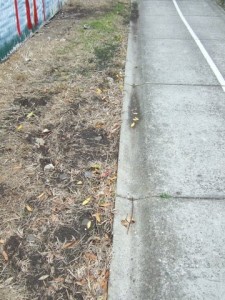 I was pleased to discover that the soil quality wasn't too bad – in places a bit sandy, in other places a bit too much clay – but generally good stuff, especially when mixed up. After turning the soil for about 45 minutes and removing the odd rock, I began to plant.
I had raised some tomato plants from seed for this very purpose (it's cheaper that way) and ended up planting about 15 tomato planets of  various types, although they were predominantly cherry tomatoes and a variety called "tommy toes." I figured the cherry variety, which are  small and very sweet, would be particularly nice when people biked or walked past and just wanted a little treat. I hereby name this new community garden,"Cherry  Grove."
I hope some hare-brained, anti-social nitwits don't come along and stamp all over it. But if they do, well, I'll just have to plant it up again.
I  also had two spare thai chill seedlings that couldn't be squeezed into the home garden, as well as a couple of eggplants and capsicums.  Because there was still some space left over after planting all these, I visited the local garden store and for a small cost picked up another six  capsicums, three butternut  squash, one cucumber, and 12  purple basil seedlings. I returned to the plot and planted those too, and finished  my mission by planting, at the end of the plot, the last of the lemon trees that I spoke of in an earlier post here.
This is all very well, but it's not the main point of this post. There is a much more interesting point to recount.
As I was undertaking this  project – which took about two and half hours – the strangest thing happened. Everyone who passed by stopped  to say hello and have a quick chat. Everyone.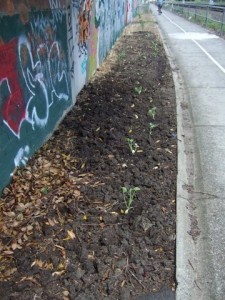 Locals of all ages, whether biking to or from work, or just out for a walk as the sun came out, stopped by and introduced themselves and examined my work with a smile. It was community at its most natural, and all because I had my hands in soil that was not my own. One  elderly woman with a thick Eastern European accent walked past and with a smile and a nod commended me for my "good communist  blood." I replied saying, "Well, I like to consider it an act of Transition," but before I could explain myself she repeated herself with a smile  and moved slowly on. I got back to hoeing the public property and planting the community garden.
Isn't it interesting. According to social conventions, we are not encouraged to say hello to those members of our community with whom we are not  familiar. This is sad, but generally true. This act of Guerilla Gardening, however, shattered that convention like a stone through  glass. Suddenly all walls were torn down and people could look each other the in the eye and exchange a few words. It was an amazing, heart-warming experience.
I hope the elderly gentleman named George, who I met today and who lives near Cherry Grove, enjoys the  purple basil I planted for him, which he told me he liked.
I think there is something to this idea of Transition.
More to come…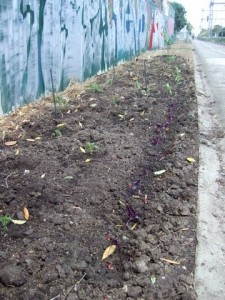 9 Responses to "The Strangest Thing Happened at Cherry Grove"