Sep 30, 2011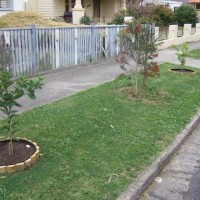 Since I became a guerrilla gardener a month or so ago, I've been living in the mountains (not really, but let's run with this narrative). I've only been entering civil society to do my work, and busy I have been. Then I escape back into the mountains where I plan my next move. My code name is "Che Guava."
I reported on my previous operations here and here. Since then, things have gotten serious.
To begin with, another neighbour of mine saw the first two fruit trees I planted on the street, and happily joined the conspiracy to relocalize. Before she had even finished asking for a grapefruit tree and a sweet navel orange tree, I had already dug two holes with my bare hands (again, not really). Moments later, the mission was complete. See photo.
As I was heading back to the mountains, however, yet another neighbour inquired about this process of relocalization and promptly joined the conspiracy. Within the hour, she and her husband had a young lime tree at their doorstep, which they later dug in themselves (see photo below). It's amazing what a community can do when it doesn't wait for the government to act.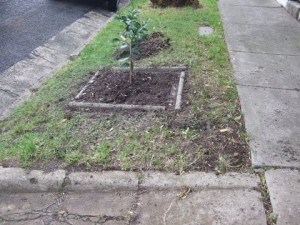 At this stage I realised that if this activity kept expanding at exponential rates, as it has been, then it wouldn't be long before supermarkets would be no more. So I dropped by the supermarket to say goodbye, in advance, and gloat loudly outside about the forthcoming revolution in food production. It was then that I saw the supermarket selling citrus trees for only $9 each, so I purchased five. It delighted me to think that the supermarket was selling me the very things that I needed to bring down it's very existence. It bothered me, of course, that this required me giving it money, but in this case I seemed to be pursuing the greater good. I took the trees home and in recent days I have carefully selected places around the neighbourhood to plant them. So far, I have planted two of them. See photos below.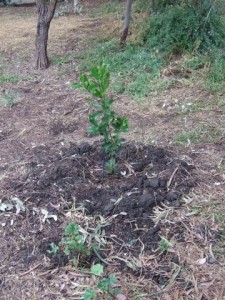 Then things got really serious. I realised that I had so much work do, but that I couldn't afford to buy as many fruit trees as the community needs. So I decided the only option was to begin cultivating my own fruit trees. It came to my attention that around the base of my neighbours' mature fruit trees – an apricot and a plum – there were 16 fruit tree seedlings. I promptly dug them up, with permission and encouragement, and took them back to my hut in the mountains where I will nurture them for a year or two before I plant them. See photo below.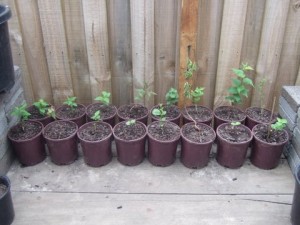 So, are there any guerrilla gardener's out there in the Life Poets' Simplicity Collective? I'd be delighted to send a copy of my book, Voluntary Simplicity: The Poetic Alternative to Consumer Culture, to the person who sends me the best photo of their guerilla gardening efforts. The prize, my lawyers tell me, will be judged according to the quality of the photo, since I wouldn't want to be interpreted as actually encouraging guerilla gardening. Empire forbid! (Wink, wink, nudge, nudge.) The 'photo' competition closes on December 15, 2011, and requires at least ten participants before I send out a book. Get to work, comrades!
Choose your spot sensibly. Don't block the vision of cars. Check the soil is ok, and preferably dig in some compost. Be tidy. Water regularly, especially for first couple of weeks. Most of all, enjoy yourself!
One Response to "Guerrilla Gardening: Things Are Getting Serious"