Nov 5, 2013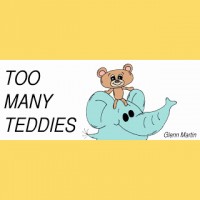 I was recently contacted by a new author/illustrator called Glenn Martin, who has just written a children's book related to consumerism and simple living, which he tells me was inspired by reading Entropia.
Glenn's book, "Too Many Teddies", is a sweet and simple story of a little elephant named Ned and his teddy Pixie. Ned gets caught up in the excitement of buying too many teddy bears before realising that giving can be more rewarding than receiving. Gratitude and sharing are two key themes explored in the book.
While Too Many Teddies is hardly going to cause a revolution, I feel rethinking the values that our children are taught is certainly part of the revolution that is needed, so it is with great pleasure that I endorse this wonderful new book. I highly recommend this book for all those with young ones.
Perhaps Too Many Teddies (for children) or Entropia (for adults) may be suitably 'oppositional' gifts for you to consider as Christmas time approaches. Might as well take all opportunities to spread to word of simplicity and sufficiency, especially at a time of chronic overconsumption.
Congratulations Glenn, and all the best with the book. Every act of opposition counts.
Readers may also be interested another eco-inspired children's book I've just been notified of: The Smallest Carbon Footprint in the Land and other Ecotales, by Anne Morgan.
One Response to "Too Many Teddies (Children's Book)"