May 19, 2012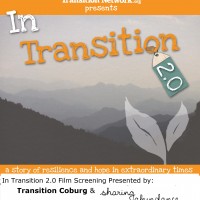 Sorry about the late notice, but Transition Coburg, in association with Sharing Abundance and the Moreland Energy Foundation, is screening a film on Sunday 20 May (i.e. tomorrow or perhaps today, depending on when you get this email) at the Coburg library at 3.45 pm. We are showing the new film, Transition 2.0: A Story of Hope and Resilience in Extraordinary Times.
If you are in Melbourne and would like to attend, please feel free to drop in. It promises to be a great film, and it only goes for an hour. It would be wonderful to see some of you there.
For anyone who is interested, there will also be a cup of tea and a discussion afterwards, as I am sure the film will raise many interesting issues.
2 Responses to "Transition 2.0: A Story of Hope and Resilience in Extraordinary Times"