Sep 12, 2011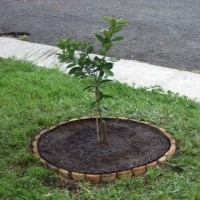 No, this isn't the same citrus tree that I planted and posted about a couple of weeks  ago. Although I do look very fondly upon that citrus tree, and check upon it morning  and night, I wouldn't bother you again with more details were it not for the fact that  another tree has mysteriously appeared, this time on my neighbour's nature strip. It  looks quite fine, I must say.
Whoever could have put it there?
The original citrus tree – a mandarin – came up in conversation with my neighbour as we exchanged  garden chat and some coriander over the fence last weekend. He mentioned that he  liked my Guerilla tactics, so, in a whisper, I promptly offered to repeat the  performance on his nature strip. After looking over his shoulder, he whispered that he  was only too happy for me to do so. The conspiracy to relocalize was complete.
Not wanting to delay so important an event, I got to work immediately, before he could even say, "I'd like a sweet navel orange tree, please." Fortunately, that is what I planted. Doesn't it look good?
There is an important message here, I feel, about the ability of our peaceful acts of opposition, even the smallest acts, to resonate beyond our original intentions or expectations, like ripples in a cultural pond. This is motivating, as well as being a good reminder of the often subtle mechanisms of cultural change. Don't get overwhelmed by the enormity of our challenges. Think global, but act local. After all, the examples of Guerrilla Gardening on my street doubled in the weekend, and that's the only exponential growth we should be interested in these days. Watch this space, or similar spaces. Better still, get digging!
In the photo below you will see the two trees, co-existing proudly, side-by-side, as if comrades in the Deep Green Revolution. When the nature strips are full, we can always start working on the driveways.
Viva la Resistance!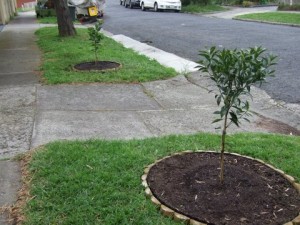 4 Responses to "Viva La Resistance!"