Aug 2, 2012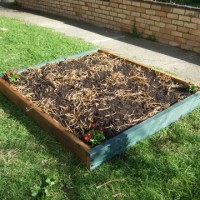 Someone's been guerilla gardening on my nature strip again. I think it was Che Guava, but can't be sure.
You will see from the picture that a wonderful no-dig garden bed is now beautifying the nature strip outside my place. A no-dig bed means exactly that – no digging – which means you don't have to worry about pipes beneath the earth. And now there is more space for local people to eat local food. That means more people out on the streets talking to each other as they garden; less dependence on supermarkets and fossil-fuel based food; and more food security.
It's a no-brainer.
To make a no-dig bed, you begin by making the garden bed frame out of wood, which I picked up from the salvage yard for a total of $6. I then placed about 20 layers of overlapping wet newspaper within the confines of the bed, to inhibit weeds and grass. I then put a layer of lucene (about 10cm thick) on the newspaper; then a layer of sheep manure; then a layer of pea straw; then another layer of sheep manure; then a layer of compost. I then planted a few flowers in pockets of compost in the corners, to keep the neighbours happy (which is important). I'm now going to let it sit for a couple of weeks and plant it up with potatoes. The same method worked a treat in the backyard. Veges go nuts for no-dig beds. The potatoes should be ready for the street party at Christmas.
For other guerilla gardening activities, see here, and for info on the Reclaim the Curb group I'm involved with see the website here.
Also, just a reminder that the Simplicity Institute still collecting "Stories of Simplicity." For those who wish to share their exploration of the simple life, please see here. We'd love to hear from you!
5 Responses to "Che Guava Strikes Again: Guerilla Gardening on Nature Strip"