Feb 25, 2014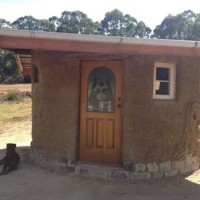 In recent months I've posted about the 'simpler way' demonstration project I'm helping develop out in Gippsland, Victoria. It continues to be an exciting, enriching, and evolving project. To complement the Earthship we built in December, we've just completed (almost) a beautiful new cob cabin – see pictures below. The foundations and walls of this natural building were built during six days of a 22-strong workshop that was run by the amazing team at Mud Mob Building Collective, who spent another three days on their own putting on the roof and hanging the door. Not bad for nine days! It still needs a render inside and out, plus we still need to lay the cob floor, which together might take two or three days.
For a short introduction to cob building, see here.
As well as the photos below, you can see about one hundred more of the building process and workshop here and here, courtesy of Mud Mob.
2 Responses to "Our Beautiful Cob Cabin: Building with Mud"