Mar 2, 2016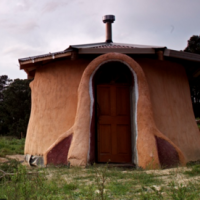 Wurruk'an is a humble but beautiful body of land, water, and forest in the Gunai district of Gippsland, Victoria. In recent years it has become an inclusive gathering space for people seeking to pioneer and demonstrate a 'simpler way' of living based on permaculture principles.
Among other things, we have been running mud-building workshops and growing organic food, capturing water from the skies, learning the skills of self-sufficiency, experimenting with alternative technologies, reconnecting with nature, and moving toward systems of renewable energy. Although these are still early days, the emerging vision is aglow with promise and potential. As a strategy for social change, this small and evolving community is trying to build a new world from within the shell of the old.
You can see some photos of Wurruk'an here.
For those of you in Victoria, the residents of Wurruk'an are having an open weekend / working bee on 19-20 March – and you're invited! I'll be heading out, it'd be great to see some of you out there. Here are the details:
Dear friends of Wurruk'an,
It's time for our next working bee! We've all had a bit of time off after last year's incredible "Simpler Way" experiment and are ready to jump back in to some bigger projects once more.
Work will include plenty of gardening, some fermenting and pickling, some light construction work on our various "tiny houses" and the construction of some bed bunks with pioneer-style bush-poles!
Come learn about seed-saving, vinegar making, juggling, DIY architecture, geodesic domes, hand-tool restoration and a whole host of other useful life-skills in some informal workshops with the Wurruk'anians and other visitors.
There will be FREE ORGANIC FOOD all weekend, with gluten free options available too.
DETAILS:
Dates: Saturday March 19th-Sunday March 20th (arrive Friday evening if you like)
Start time: Breakfast at 8am, start at 9am, though we will start earlier if it's hot
Accommodation: Camping on the property, though if you have access issues, let us know and we will try to arrange a bed for you. BYO tent, sleeping bag etc.
Cost: FREE!
Getting here: If you're driving, the property is 150km or so east of Melbourne, driving on the M1, take the second exit to Moe, then turn right at the lights. Public transport is a single VLine train from Southern Cross station to Moe station, then a 4km bike ride, walk, or lift to the property.
What to bring: Tent, sleeping bag, water bottle, snacks/meal contributions (not necessary), garden tools, good vibes
If you can come, email Liam at liam.culbertson2014@gmail.com and he'll give you the address
You can find out more about Wurruk'an here.
3 Responses to "Want to visit Wurruk'an? Let's build the new world together"